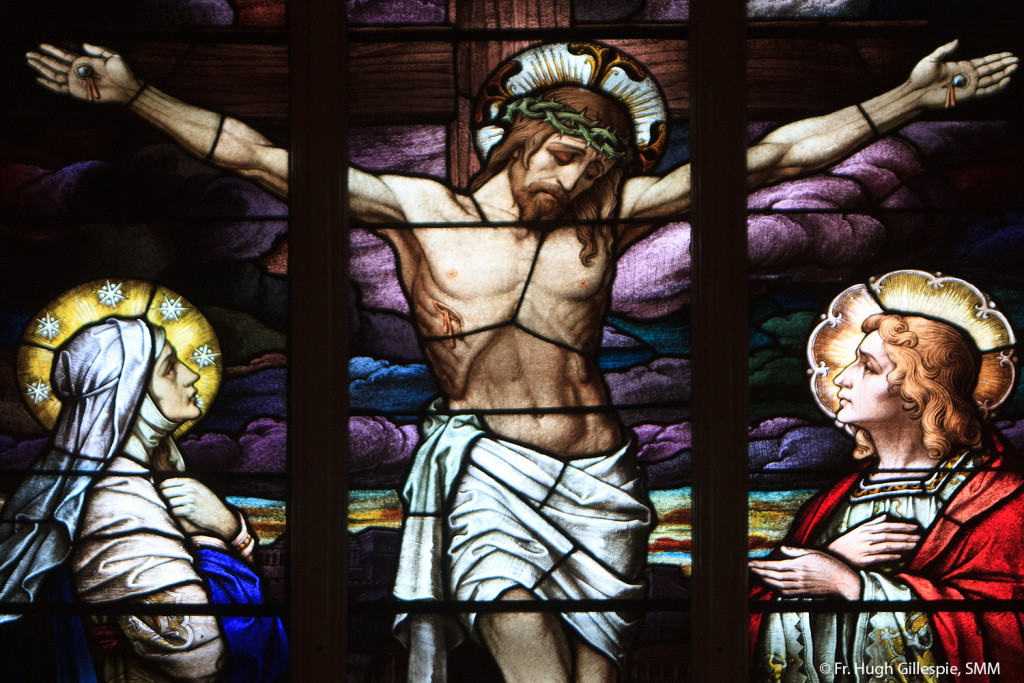 When Jesus saw his mother, and the disciple whom he loved standing near,
he said to his mother, "Woman, behold, your son!"
Then he said to the disciple, "Behold, your mother!"
And from that hour the disciple took her to his own home. (John 19:26-27)
There is much to be learned from noting such things as the position of hands in Catholic iconography.
Note the hands of the Blessed Virgin – clasped tightly against her chest, over her heart.  This is the gesture of that Woman who kept all these things in her heart (Luke 2:51).  Her gaze is fixed attentively upon her Son and his word is received and held with great attention, as a thing to be treasured in her heart.  In receiving the word of her Son in this way, Our Lady receives another into her heart as well – the beloved disciple, John the evangelist.  There is no receiving this word without receiving John as her own son, a son after her heart for it is the word of her Son, treasured in her heart, that gives him to her.
Now consider the hands of the beloved disciple.  His right hand imitates the gesture of Our Lady, clasping the word he has just received into his heart.  He has also learned the lesson of Our Lady's responsive obedience to the word.  His left hand is extended outward toward her who has been given to him as Mother by that same word which he now receives in its fullness.  His gaze is fixed attentively on the Lord; his heart receives and holds the word of the Lord as a thing to be treasured; and his left hand indicates that the treasure of the word that is spoken to him at the foot of the Cross is only truly possessed when from that hour he takes her to his own home.
The picture is of one of the windows in the sanctuary of the Cathedral of St. John the Evangelist in Lafayette, LA.