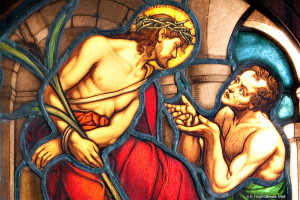 Over the last two weeks I have been working with the staff of the Diocese of Rockville Center's Office for Prison Ministry to offer Lenten days of Recollection in the Suffolk County jails in the towns of Riverhead and Yaphank, NY.  These are not full days as the time the inmates have available to participate in focused religious programming is limited.  However, a few hours were available with each group.  We put together a simple program of Mass, opportunity for Confession and preaching focused on knowing Jesus through meeting him in the mystery of his Passion and Cross.  Central to the preaching was the attention that was paid to the experience that Christ himself had of being arrested, imprisoned, judged and sentenced. I was allowed to bring a reliquary with me that contained a splinter from the cross of St. Dismas, the Good Thief, who is the patron saint of the incarcerated.  At the conclusion of the preaching I blessed the inmates individually with the relic of St. Dismas.
This is the blessing formula that was used:
By the powerful intercession of St. Dismas, the Good Thief,
May Almighty God strength and sustain you in his power and his goodness,And may he protect you and keep you safe from all power of evil.
In the name of the Father….
I am hoping to build a regular space for preaching and ministry in the jails into my schedule moving forward.