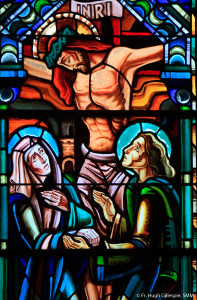 During the holy season of Lent it is fitting to take some time in prayerful reflection upon the sufferings that Our Lady endured at the foot of the Cross of her Son. Among Fr. de Montfort's collected Cantiques is a beautiful hymn he composed to express the fruits of his own prayerful gazing into the heart of this same mystery.  As an aid to those who would like to spend some time in prayerful union with Our Lady in the spirit of our Founder, I am posting my translation of this hymn.
CANTIQUE ON
THE SUFFERINGS OF THE HOLY VIRGIN
AT THE FOOT OF THE CROSS
Let us contemplate Mary afflicted,
Close to the Cross of the Savior.
Let us see her pierced within her holy soul
By the cutting edge of sharpened pain.
She moans.  She sighs.
In loving outbursts,
She suffers an intensity of martyrdom,
Whose depth is hidden from our eyes
Jesus dying is her misery
Love, her fiercest torment.
Her heart is her great sacrifice.
O my God! How great her agony!
Seeing upon a vile gibbet
The object of all her desires,
She suffers more within her
Than have suffered all the martyrs.
She feels the same injuries
As does her dear Son dying.
She is herself the unique echo of his groaning,
The true portrait of his torment.
The tears flow in abundance.
She trembles. She grows pale.
Her body's strength now fails her
But her great love sustains her.
Sinners, we make, through our crimes,
Of Mary and of Jesus
Two purely innocent victims.
Ah!  Ah!  Ah!  Let us never sin again!
O! Our divine Mistress,
All of our compassion stands with you.
By your heart so full of tenderness
Plead with your dear Son for us.
Pierce our heart with an arrow
From the love of your own heart
So that there, where it is breached,
It takes a sharing in your sorrow.
Make us partakers of your sufferings,
O Mother of beautiful love,
That we may atone for our offenses
And in some small way repay you.
            AMEN.
Translated by Fr. Hugh Gillespie, SMM
© 2012.  All rights reserved.