[soundcloud url="https://api.soundcloud.com/tracks/260340041″ params="color=ff5500&auto_play=false&hide_related=false&show_comments=true&show_user=true&show_reposts=false" width="100%" height="166″ iframe="true" /]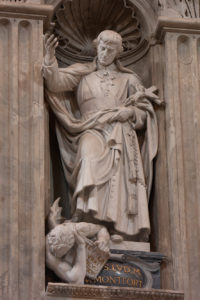 As we prepare for the Feast of St. Louis de Montfort, one of the helpful ways to understand his life and spirituality as well as his importance for us is through the consideration of the ways in which his life is presented in art. Great Catholic art has a genuine power to convey very deep and subtle spiritual meaning in a vivid and accessible way and this is certainly true of the justly famous image of our Founder that is found in St. Peter's Basilica in Rome.
This reflection was recorded back in 2012 during the second Rio Grande Valley Consecration Mission.