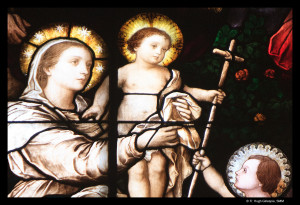 This is a detail from a much larger window in the Church of St. John the Baptist in Jersey City, NJ.  It depicts a scene that was once commonly portrayed in Catholic art – a family visit in which the Child Jesus with the Blessed Virgin his Mother are together with his cousin the young St. John the Baptist and his Mother, St. Elizabeth (not in this crop).
Note, however, the importance of the Cross in this image.  Our Lady is seated with the Christ Child standing on her lap as if enthroned upon her – one of the ancient titles of the Blessed Virgin is Sedes Sapientiae, Throne of Wisdom.  Note the hands of the Blessed Virgin.  Even as the Lord stands upon the throne of her lap, her hands pull aside the veil that covers him – Mary, in the language of St. Louis de Montfort, is that one who causes Christ to "shine forth," making his presence more readily seen than were she not with him.  The eyes of the Virgin, however, are not fixed upon her Son.  Her intense gaze is focused forward, to that distant but inevitable moment indicated by the Cross in the Christ Child's hand.
The Christ Child himself holds the Cross as if it is something of a combination of a royal scepter, a badge of office and authority, and a walking stick, a sure and sturdy staff for the journey ahead.  His left hand is placed over the heart of his Mother as if his movement springs from that hidden and holy source – St. Augustine writes that Our Lady conceived the Word of God in her heart well before she did so in her womb.  His gaze is directed downward to that earth upon which he will walk to save us and to his cousin to whom he offers the Cross. The young St. John the Baptist looks directly at the Christ Child and reaches out with strength and eagerness to take hold of the Cross indicating for all the way of true discipleship and true friendship with Christ as being the way of friendship with his Cross.  This child is already the great Forerunner of the Lord,  that one whose life, like the Blessed Virgin's, proclaims, announces and witnesses to Christ in all things.
And so it is that we see here, made beautifully manifest in these panels of stained glass, the great truth that the true secret to powerful and authentic Christian witness like that of the Baptist is to find Christ with his Mother and in so doing to receive from that same Lord who has come into the world through the listening heart of Mary that Cross which is great and victorious expression of the saving power of his love and mercy.