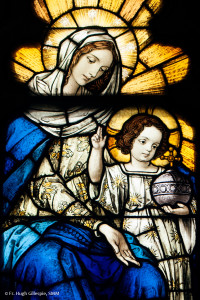 Remember, Virgin Mary,
Your heart is so benign,
Never has it been known
To pray to you in vain.
No one has implored you,
Confiding in your help,
Not blessed with your assistance,
Not delighting in your love.
– St. Louis Marie de Montfort

These images are detail shots from the Mary, Help of Christians, Window at St. Mary Gate of Heaven Parish in Ozone Park, NY.
The verses are from one of St. Louis de Montfort's cantiques and are a fine illustration of how, as we noted in an earlier post, Fr. de Montfort's own prayer was strongly influenced by the Memorare of St. Bernard of Clairvaux.