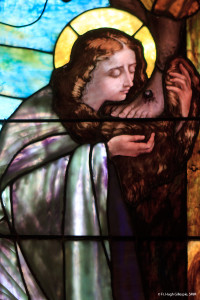 This past weekend, I preached at all of the Sunday Masses at St. Andrew's Roman Catholic Church where I will be preaching a mission next week.  While there I was able to spend a few minutes alone in the church with my camera which allowed me the opportunity to get this shot of the beautiful Mary Magdalene window which has a truly stunning detail hidden in its darkened glass.  At first glance, one is taken by the remarkable intimacy of the scene of the Magdalene lovingly holding the feet of  her Savior and leaning forward to kiss them.  Closer examination reveals something more, however, as she has enfolded the feet of Christ in her hair – a gesture that recalls the anointing of the feet of Jesus by the penitent woman in the house of Simon the Pharisee in St. Luke's Gospel:
And standing behind at his feet, she began to wash his feet, with tears, and wiped them with the hairs of her head, and kissed his feet, and anointed them with the ointment. (Luke 7:38)

While her hands hold no alabaster container of ointment, the message of the window is clear – the heart truly repentant and forgiven contains the fragrant oil of love for the Savior.  Would that we all have an abundance of this same oil with which to anoint the Savior who has suffered so greatly for us.